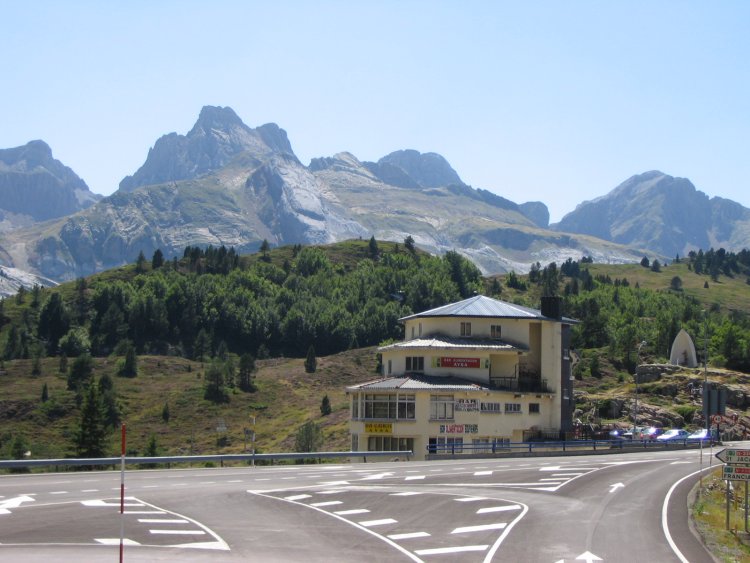 ...and the Chemin d´Arles is. Maybe it´s the time of year, maybe it´s distance from Santiago -- still some 800 kms away!, maybe it´s that Santiago himself simply is not the hero for the French that he is for the Spanish. But this chunk of the trail is definitely a road less traveled.
First, I noticed what´s not there. For a traveler whose first experience of the Camino was popular Camino Frances, I missed the ever-present, always open bistros along the way. In September Lisa and I came to take for granted that perfect cafe con leche about two hours into the day´s walk in a picturesque village right by the trail. Often people we´d met along the way were already there, lifting a steamy cup in greeting.
Here, that´s not been the case. Picturesque villages abound, but nothing is open.
I missed the other pilgrims, whose encouragement I needed more than I knew. A smile and a ¨Buen Camino" were worth about 400 mgs of Ibuprofen.
Here, we see few other pilgrims. Ten days into the walk, I could count the number of fellow travelers on both hands.
I missed the sense that we´re getting somewhere, and that "somewhere" is what this route is all about: Santiago de Compostela. And even if I wasn´t wedded to seeing the saint´s relics, Santiago represented a destination. We knew when we got there, we had accomplished something.
Here, that sense of having "arrived" is more elusive. We´ll get to Pamplona, where Lisa and I set out from in September. But Santiago will still be over 500 kms away.
So, yes: first, I first notice what´s not there, what´s absent. And then I notice what is there, what´s present.
Precisely because the trail is not so well-supported, we´ve had to think ahead and we discover a kind of self-reliance I hadn´t quite noticed in the first trek. We carry food -- and we share it. On a rough stretch as we climbed the Col de Somport, a high pass in the Pyrenees that would take us into Spain, we split a milk chocolate bar. It had been purchased long ago in some hotter, drier part of the trail, and it had melted and cooled into weird and wonderful shape. But it tasted glorious -- and gave us the push we needed to summit.
And then there was Barran, which we reached in the middle of a hot Saturday afternoon, in need of water. The only place open was Coiffure Bea, a hair stylist, and Bea herself served us instant coffee -- with sugar! -- and filled our water bottles. We sat on the street and toasted her -- Santiago in drag and with hennaed hair.
Precisely because there are so few other pilgrims around, we have gotten to know our hospitallers and innkeepers better. We talk a lot about hospitality, where we find it -- and where we don´t. We know what counts as good hospitality, how important it is, and how it manifests in the first minutes of an encounter. We resolve to practice it better when we come home. We remember fondly Nicolas, the initially reticent innkeeper in L´Urbe St. Christau, who kept telling us ¨"I am not a restaurant I am not a restaurant," but proceeded to ply us with beers and fine wines throughout the afternoon. That night Nicolas turned out a first-class meal, before we discovered he was a highly regarded pastry chef and spent winters rolling around the countryside teaching people his craft.
Finally, in absence of a destination like Santiago, we follow markers along the way. We walked up the Aspe River into the French Pyrenees; we descend into Spain along the Aragon River. Rapids and waterfalls release a lot of positive ions into the air -- and we´ve been drinking them all in. I watch the mountains, as they advance and recede. Their brooding presence blesses this journey.
I noticed first the absences -- of support services, of other pilgrims, of destination, but it was into that very vacuum that something else spilled, luminous, perhaps even more mysterious.