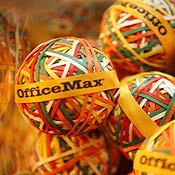 This afternoon, I rent computer time from the Office Max near the Lutheran Center in Mexico City, contributing to the transnational corporations that the leader of a campesino movement we met with this morning charged with exploitation. Next to me are three other members of our delegation. And across the street sits Lisa at a Starbucks, where there is free WiFi. We stop here every morning on one of our early morning hikes up Avenida Insurgentes into the heart of the city.
I am noticing....
On the first day of our program, Director of the ELCA Lutheran Center Kim Erno gave us the most important conversion rate. It wasn´t from dollars into pesos. It was from pesos to pesos, converting the required daily wage $55 (here the $ sign is used to signify pesos)/day into the prices of the goods we see in shop windows, the food we see in grocery stores. In the Office Max where I sit on the computer, there would not be much that $55 will buy. Maybe the box of rubber bands in the photo, but little else. Indeed, it would cost half a day´s wages to pay for the hour I will be on this computer.
I am noticing....
I am also trying to parse the similarities and differences between pilgrimage and immersion. This immersion in Mexico City is the follow-up to our pilgrimage to Santiago in September. We hypothesized that immersion is the post-modern version of the ancient practice of pilgrimage.
How does that hypothesis look now?
I have to say that pilgrimage is much more individual, immersion more communal. While I learned a lot about myself on pilgrimage, immersion makes me look long and hard at my country and its complicity in a global economy that has had devastating impact on Mexico. In language dear to my tradition, I have to ask how well we serve this place, our nearest neighbor? The answer is shockingly clear: not well at all.
At the campesino organization we visited this morning, leaders spelled out the consequences of trade agreements and privatization on a country that used to be able to feed its own people, but now cannot compete in a world market. Unemployment spikes, land is wrested from the people and put into corporate hands, fields that used to support a way of life become a tourist corridor. Mexico risks becoming a theme park that its own people will not be able to afford to visit.
That´s one difference: pilgrimage probes the individual soul, immersion exposes a more corporate or national psyche.
This leads to another comparison. In an earlier post, I examined how pilgrimage -- and any religious practice -- uses the body to mentor the soul. All of our best spiritual insights on pilgrimage came from our feet. One of the more humble body parts turns out to have lots to say about spirituality.
Immersion may be similar -- only the body part changes. Instead of registering insight through our feet, we are taking things in with the eyes. Moving around the city, we simply look. It looks pretty much like any bustling metropolis in the United States: Wall-Mart, 7-11, Office Max are here too. That´s part of the problem. Other international corporations masquerade under a Spanish name. And everywhere, even in the wealthiest neighborhoods of San Angel or Coyoacan, are the street vendors, representatives of an informal economy that is run by campesinos run off their land.
Of course, we talk about what we see, but looking comes first. After the lectures, we head back into the City, literally for a second look. We see more the second time around. Even more on the third.
We are all deeply moved, and the question haunts us: what will we do with all this new knowledge? What will change?
Immersion dumps you into another culture, demanding that you do nothing more -- and nothing less! -- than notice.
I am noticing....